purist esl MK2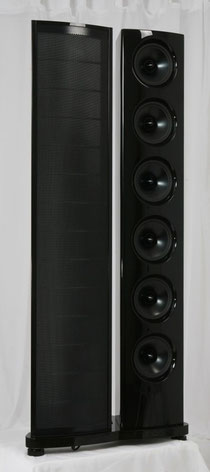 The design of the esl MK2 was influenced by the changes and experiences made with the prototypes.
Especially the building height of the ´small´ esl proto was too large.
The optical difference between the big and the small brother was too small. The integrated class-d amplifiers prooved to be not adaequat for such a system.
The lower building height of the panel part now only allowed to mount six bass drivers into the basstower. Similar to the ESL MK2 the electronics found their place below the lowest bass driver in the basstower.
The small space left didn´t allow to also integrate amplifiers.
As with the big ESL MK2 external amplifiers and a external active crossover are used.
The esl MK2 can play in small rooms with a floor space of 20m² or more. Therefore we dispensed with a dedicated Subwoofer. On Your wish and for larger rooms I recommend to add a Subwoofer. In that case the lower bandwidth limit of the basstower should be raised from 35Hz to 50Hz.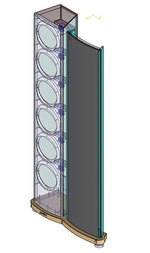 The conceptual and optical similaritie is still given. Even more so as the crossection of the basstower and the used bass drivers are now identic.
The appearance of the esl MK2 is now alot more compact and elegant.
The electronics and the circuit layout has remained nearly unaltered.
Apart from a change from the simple HV-cascade of the proto to a very compact HV-switchmode power supply.
The base plate embraces the contour of the bass tower and the esl-panel and resembles the style of the ESL MK2. The shape is less complex though and the thickness of 30mm is a bit smaller.
A digital DSP-crossover featuring IIR-filtering is used as active crossover.
You may use amplifiers after Your wish. The esl MK2 is not as choosy regarding the driving amplifier as the ESL MK2.
The panel´s amplifier should provide for excellent 20-50W, while the bass amplifier should be able to deliver 50W and more.